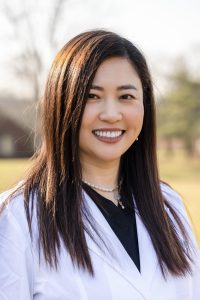 Joyce Guojun Ma, DDS, PhD, MAGD, MICOI
Dr. Joyce Ma attended dental school at Peking University in China, graduating with her Bachelor of Dental Medicine degree in 1998; she then attended New York University, from which she graduated with her Doctor of Dental Surgery degree in 2010. She also completed her PhD in neuroscience through John Hopkins University in 2005 as well as advanced training through the Rockefeller University Postdoctoral Fellowship between 2005-2007. Dr. Ma has over 24 years of experience providing care and has practiced in the Bridgewater area since graduating from NYU in 2010.
Dr. Ma is constantly advancing her training and education in order to provide her patients with the highest quality of care. The advanced training she has received includes:
Dr. Ma is a member of several professional organizations, including the American Dental Association®, Academy of General Dentistry, Academy of Laser Dentistry, American Academy of Facial Esthetics, International Congress of Oral Implantologists and United States Dental Institute. Additionally, she has also received a number of awards, including the John Hopkins Young Investigator Award, and holds a Rockefeller University patent for fluorescence.
As a dentist, Dr. Ma is committed to offering the highest possible quality of dental care to her community and utilizing the best technologies and most comfortable environment to change lives one at a time. She is dedicated to giving each patient she meets a beautiful, confident smile. You can count on Dr. Ma to treat you with gentleness and compassion, communicate honestly and work with you to help you achieve the perfect results.
Outside of the office, Dr. Ma is also a landscape photographer and has a GPSA title from the Photography Society of America.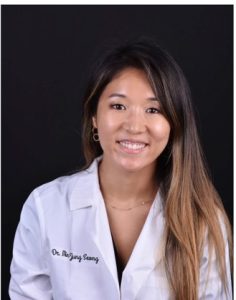 Dr. Min Jung Seong is a compassionate and highly skilled dentist, renowned for her extensive expertise in all aspects of dentistry. Graduating with honors and distinction, she earned her Doctor of Dental Surgery degree from the Stony Brook School of Medicine and continued her training through an extensive general practice residency, further honing her abilities to serve her patients with the utmost care and precision.
With a passion to provide exceptional comprehensive care, Dr. Seong has earned a reputation as a meticulous and caring dentist. As a well-rounded practitioner, her areas of expertise include Cosmetic, Digital, and Implant Dentistry. She also has a particular focus and passion for patients that suffer from TMD.
Earning her patients' trust, and knowing they are in the hands of a dedicated professional, is of the utmost importance. Dr. Seong focuses on fostering a welcoming relationship with each patient. Beyond her practice, she continuously seeks to stay at the forefront of dental advancements and techniques. She invests in ongoing education and training through the world-renowned Kois Dental Education program and Pankey Institute, ensuring that her patients benefit from the latest innovations in dental care. She is also a current member of the American Dental Association, NJDA, and American Cosmetic Dental Association.
Out of the office, Dr. Seong enjoys painting, cooking, and traveling the world with her husband.